4,2mm Alpen Cobalt Drill Bit
R28.00
The 4,2mm Alpen Cobalt Drill Bit is ideal for drilling holes in handle scales of folding knives.
Use with the counterbores also available on this website.

3 in stock
Description
5% cobalt-alloyed high-efficiency drills with reinforced web. Especially suitable for drilling stainless steel, acid-resisting steel, spring-steel. Best for hand held operations.
For drilling into:
Structural steels < 400 N/mm²
Free cutting steels < 850 N/mm²
Unalloyed heat treatable steels < 1.100 N/mm²
Alloyed heat treatable steels < 1.300 N/mm²
Stainless steels
Titanium and titanium alloys
Copper, brass, aluminium
Grey cast iron, malleable cast iron
Plastics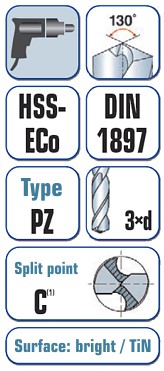 Specifications
Description
Qty
Sample
Quantity in box
10
Type
HSS Cobalt PZ
Standard
DIN 1897
Drilling depth
3 x d
Point angle
130°
Point grind
Split point
Drill diameter
4,2 mm
Surface
Bright
Drill material
HSS-ECo
Length of twist
22 mm
Total length
55 mm