ALPEN HSS SPRINT Drill Bit 3,2mm
R20.00
ALPEN HSS SPRINT Drill Bit 3,2mm, quality drill bits for the knifemaker and hobbyist.
Back-orders available within 5 working days.
16 in stock
Description
Part No.
Diameter
Ø mm
Cutting Edge
length L2
Complete
length L1
Grind
ALP624032
3,2 mm
36 mm
65 mm
118°
Packaging:  Industrial pack of 10 drill bits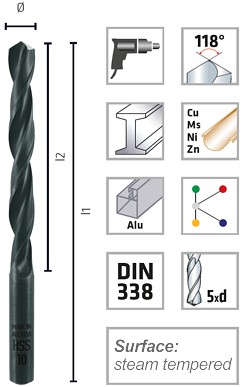 Brand
ALPEN
All ALPEN drill bits are produced in Austria in the most up-to-date plants to the highest quality standards under the strictest quality controls.
The result is top quality. Every single item. Alpen demands the same of their production as they do of their tools: it must be efficient. It must be economical. And it must be state of the art. In order to ensure their high-quality standards, they keep the entire manufacturing process in-house and are the leading provider of metal, masonry, and wood drills.