Sale!
G-Clamps / Pony Clamps
R52.00 – R64.00
G-Clamps / Pony Clamps are used to secure work pieces to a bench or a template during an assembly. It can also be used in woodwork projects to glue/join pieces of wood.
G-clamps are extremely strong, thanks to the malleable cast iron construction and the strong threaded spindle.
Ideal to use as bolster clamps.
***Stock available within 2-4 working days
Description
Features of the G-Clamps / Pony Clamps:
A strong malleable cast iron frame.
Machine ground, wide anvil.
Cold-drawn steel screw with smoothly rolled thread.
Steel sliding pin handle for a secure hold.
Bright plated steel swivel spindle that is securely fastened and revolves freely.
Pony 2 Inch C-Clamp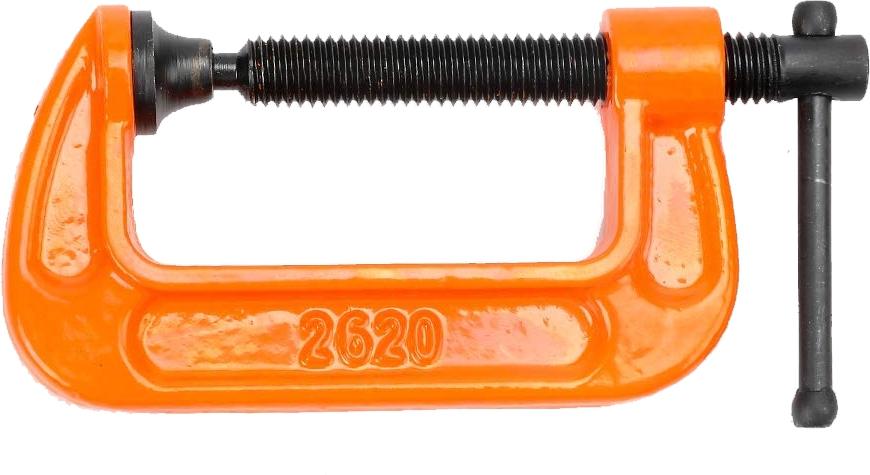 Description
The Pony Style 2600 C-Clamps are an imported economy line providing quality products at an affordable price. Manufactured and inspected under our strict guidelines to insure consistent quality.
This line features a complete variety of frame designs with full closing screws in sizes from 1 inch to 8 inch. Ideal for most do-it-yourself, woodworking and household clamping projects.
These C-Clamps have orange powder-coated castings and zinc plated screw, handle and swivel. The 2620 opening capacity is 2 inches. Throat depth is 1 inch. Load limit is 400 pounds. The Chicago based Adjustable Clamp Company which was established in 1903 is the manufacturer of all Pony C-Clamps.
Brand
PONY
Tork Craft
Additional information
| | |
| --- | --- |
| Weight | 0.2 kg |
| Size | 1" G-Clamp, 2" G-Clamp |